25 years and
2 London productions
Mon 15 March 2010 | Written by londonmusicalsONLINE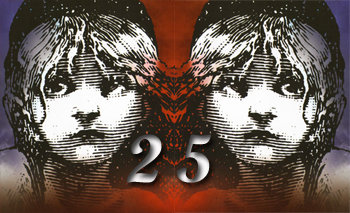 Les Misérables will be the first show ever to play two productions of the same musical in the same city at the same time when celebrating its 25th birthday this year. The 25th Anniversary tour production will return to Les Mis' original London home, The Barbican Centre, for a limited period from 14th September to 2nd October 2010. At the same time, the London production will continue to play at its current London home, the Queen's theatre.
Les Misérables opened at the Barbican theatre on 8th October 1985, before transferring to the Palace theatre on 4th December 1985. On 3rd April 2004, it moved to its current home The Queen's theatre, and became the longest running musical in London on its 21st anniversary in 2006.
To mark the 25th anniversary of the show, there is a 25th Anniversary tour production of the show, with new staging and scenery. So far it has played in Wales, Manchester and Norwich. From 23rd March to 17th April it will play in Birmingham, 20th April to 15th May in Edinburgh, 26th May to 4th July in Paris, France, 13th July to 7th August in Bristol, 10th August to 21st August in Salford, 24th August to 11th September in Southampton. The next stop is then the Barbican Centre in London, where it will play 22 performances from 14th September to 2nd October. Further venues are still to be announced.
The touring version stars former London Les Misérables performers John Owen-Jones as Jean Valjean, Earl Carpenter as Javert, Katie Hall as Cosette and Jon Robyns as Enjolras, as well as Gareth Gates as Marius, Madalena Alberto as Fantine, Rosalind James as Eponine, Ashley Artus as Thenardier and Lynne Wilmot as Mme Thenardier.
In the ensemble are Jonathan Alden, Ian Caddick, Leigh Rhiannon Coggins, David Covey, Beth Davies, Victoria Farley, Christopher Jacobsen, Vanessa Leagh Hicks, Luke Kempner, David Lawrence, Adam Linstead, Rebecca McKinnis, Rhidian Marc, Carl Mullaney, James Muscato, Rosa O´Reilly, Rhiannon Sarah Porter, Laura Tebbutt and Owain Williams. Swings are Michael Baxter, Joanna Loxton, Peter Manchester, Gemma O´Duffy and Leighton Rafferty.
Tickets for the September performances at the Barbican are now on sale at the Barbican website. We have been told that there will be a special celebratory performance at the Barbican on 2nd October 2010, but this is not official yet.